---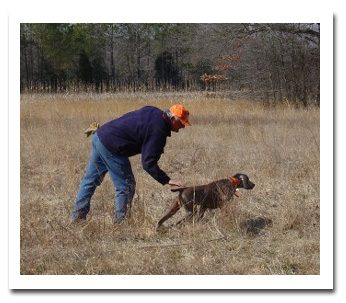 -- Backing
-- Starting Young Dogs on Birds
-- Wild Birds


-------------------------------------------------------------------------------
BACKING
I have heard many dog people say you can't win a field trial by backing. I totally disagree. Having judged my share of major trials, I often look at a well executed classy back as the difference between a very good job and a great performance. I still see way too many dogs at trials that won't back, or have to be strongly cautioned into a back, or handlers who avoid obvious backing situations, or even dogs that are experts at blinking backs.
In my opinion, English Setters appear to be natural backers more often than most other breeds. However, my guess is that only 10% to 20% of the dogs we see for training are natural backers. That leaves us with 80% to 90% of dogs that will require patient, keen work to get them to do their backing correctly.

I feel it is best for the dog to learn backing while being steadied to wing and shot. If trained to back during this time, it becomes engrained in the dog just as being steady does. That said, I may not put a young dog in a backing situation each and every workout. Training to back has to be timed well to keep the process positive, rather than negative. If a dog is not having a good day on staying steady, I will not push a back into the program at that time. Wait until everything is going well with birdwork, then get some backing time. It will give you a more stylish student as the end result.
For young dogs the best time for backing training is during the steadying process. I get more dogs that are good on game, but will not back well. These dogs tend to be more of a project to get to back properly.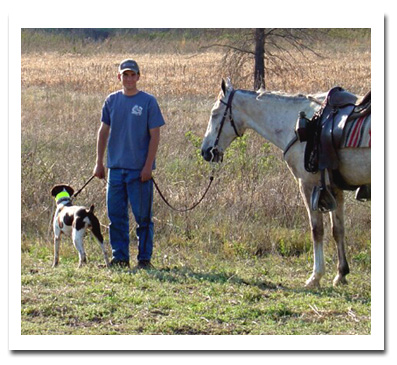 A lot of dogs that I see are trial-wise to backing. They will do a fairly good job in workouts but are looking for
a way to mess things up at a trial. This can be a very difficult problem to solve and many dogs never do get it right.
That's why it is so important to get the backing training started and completed before a young dog gets too much age. It is never easier as a dog gets older.
In today's world of fewer quality training grounds and fewer wild birds, dogs have a tendency to run more and hunt less. These conditions hurt the dog who doesn't like to back.
We still see a lot of birds on our summer trip to Montana, but 10 months out of the year we are working dogs on pen-raised birds that don't fly well, and might not always be planted properly. If a dog is hunted on foot or horseback properly on wild birds, I have found that the dog becomes a backer more quickly if he understands what is expected of him in the first place. Wild birds will only make things tougher if he or she does not have a solid basic understanding of what you expect of the dog in a backing situation. He must be under control, come when called, and know the meaning of "whoa."
A dog that is hunted and shot over will have a greater desire to back than a dog not given the same opportunity. Dogs like to be involved in real hunts, and shooting birds over a dog will always make the dog more cooperative.
--------------------------------------------------------------------------------------------------------------------------------------------------------------------
STARTING YOUNG DOGS ON BIRDS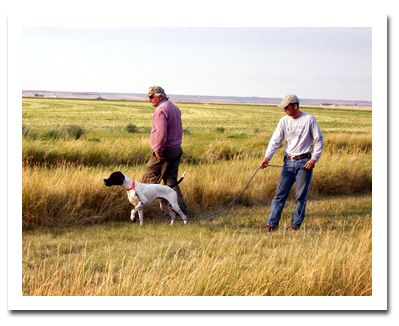 For many years the only method for starting a young dog on birds was to open the kennel and go for a walk. There were wild birds in most parts of the country. In Pennsylvania when I was a kid I would see 300 or 400 birds a day. There were so many pheasants you would see road kill birds every several miles in pheasant country. I have had birds actually fly into my car back in the mid 60's -- I mean, inside the car! One summer day a rooster actually flew in the rear window of my 53 Chevy. I had a Pointer pup riding up front with me that loved the excitement. I guess that's one way of starting your dog. Sadly those days are long gone in many parts of the country.

Nowadays we have to count on liberated game for training, and that changes things.

I like to start my young dogs on wild birds even if the birds aren't upland game birds. I will start pups eight weeks old and up on field birds, if possible. In the winter it's easy to feed field birds and get them coming to feed on a regular basis. You'll see birds feed several times daily, with a routine that can be counted on. I will take feed and place it where it has some overhead cover to protect it from avian predators and let it alone for a few days. Make sure you don't let the feed run out or the birds will be slow to return. I like to string my feed out over a couple of hundred yards -- just putting a coffee can full of cracked corn, etc., out every 20 or 30 yards... the birds will string out along the feed and it's great to see a young pup get the idea of staying to the front while finding and chasing wild birds, even if they're only field birds or song birds. This still motivates a young dog to hunt, and be rewarded for his effort.

As dogs get older - 6 months and up - I will start them on pen-raised quail if I'm at home in Pennsylvania. I use only good strong flying birds that are jumpy. I always try not to touch by hand the birds I'm releasing. I like to fly the birds out of a box I purchased from my friend Bob Warner. All of Bob's traps and pens are very well thought out, with ease of operation considered first and foremost. I try to fly the birds out where they are spread out over a course. This will encourage the pup to hunt to the front, and he will be rewarded periodically by finding more game.

If I'm lucky enough to be in Montana starting my pups, it's like Pennsylvania use to be. It is still such a marvelous place. We are so fortunate to be able to have a summer program in that great upland country.

I'm fortunate as well to be at Ashbrook Plantation just outside of Albany, Georgia in January and February. Like Montana, at Ashbrook the wild birds are plentiful. I will let a young dog enjoy himself learning to hunt to the front and find and chase game until he or she shows signs of wanting to be steady to wing and shot. There is no set age for this. Some dogs work out at a year or so of age, whereas others take longer.

When we do start the steadying process, the dog's days of chasing are totally over. He or she now starts a very strict, closely monitored, patient program of never being able to chase. This generally takes several months for dogs to get comfortable. Then for a field trial dog, another six months to a year of careful handling to make sure your work doesn't go up in smoke. If your dog is taking liberties out of your sight, this will lead to a dog that will very quickly become creative about being mischievous and getting away with it. Unfortunately many people let their dogs go backward in their training after working hard to get their dogs broke right or paying someone to do it for them.
One of the biggest problems I face is that of trying to get dogs out of being trial-wise or handler-wise.
There is much talk nowadays of not ever letting a young dog chase birds before you start the breaking process. I do not buy into this thinking at all.

You might call me old school, but I believe the likes of Gerald Tracy, Ferrell Miller, and Harold Ray broke a ton of young dogs that chased plenty of good flying birds as pups. These dogs then went on to have long and handsome field trial records -- standing their birds as lofty and stylish as any, and keeping their intensity and desire all through their lifetimes.
When you're starting a young dog, give our method some thought.
If you need help, give us a call...
our Montana summer program and our Georgia/Virginia winter programs
are always close at hand!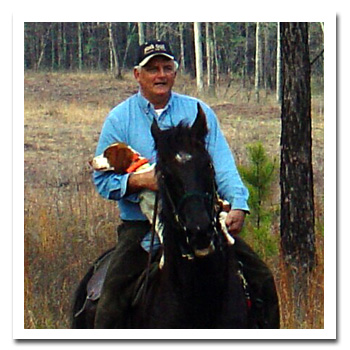 --------------------------------------------------------------------------------------------------------------------------------------------------------------------
WILD BIRDS
To me a great bird dog working wild birds is as good as it gets. My fondest field trial wins and workouts have always been on wild birds. Dogs that have been worked on wild birds apply their hunting efforts harder and smarter than dogs that have only had the opportunity to work liberated birds.
I once asked outstanding handler and trainer Dr. Roger Boser if he felt his annual summer trip to the prairies of the Dakotas was worth the time and expense. Roger's answer was positive and without hesitation, "Yes! My dogs learn how to hunt, and they also learn to point their birds at a distance."
Dogs that have a tendency to crowd their birds or get close to their birds, have a strong urge to get in trouble around game. Dogs that catch birds as young dogs or work a lot of slow flushing birds will only naturally want to crowd their game. These dogs are generally tougher to get steady to wing and shot and to keep steady.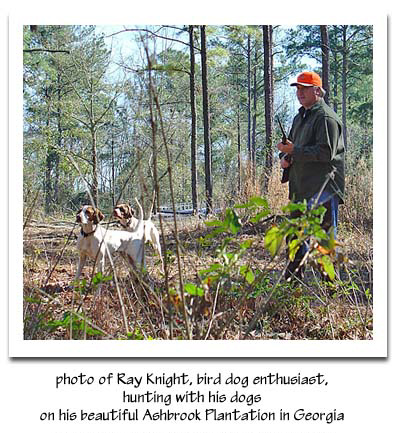 That's why it's so important to get your young dog on wild birds as early in his training as possible. This goes for dogs that will only predominately be worked on liberated birds as well as wild birds -- it will instill early an ability to point birds when scent is first contracted, and not push closer and closer until the birds are pushed up. A dog that has had experience on wild birds will point and handle liberated game much easier than vice versa.
Almost always, a dog that has been worked only on pen-raised birds will have some re-learning to do to be able to handle wild birds. Some liberated-bird-broke dogs never do figure out how to point a wild bird correctly. Handling grouse and huns can be a tall order for some.
We have a summer training program in Montana, and a winter program in Georgia. Working dogs in natural hunting situations can be the most valuable training your dog will ever get. I believe you get more for your training money from having your dog worked on wild birds than you could ever get from training a competitive dog strictly on liberated birds.