Jim Heckert Kennels is owned and operated by Jim and Jimmy Heckert
along with Jim's wife Theresa and daughter Jennifer.
Jim and Jimmy are full time professional bird dog trainers.

At Jim Heckert Kennels
we train both field trial and hunting dogs, and have several litters of Pointer puppies per year.
From time to time we also offer started or finished gun dogs for sale.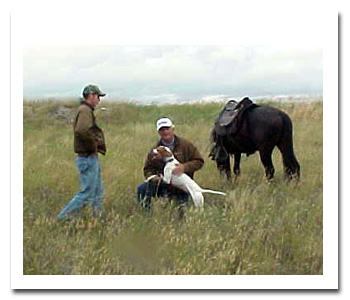 Jim and Jimmy take a break from training in beautiful Montana
BACKGROUND and EXPERIENCE: JIM HECKERT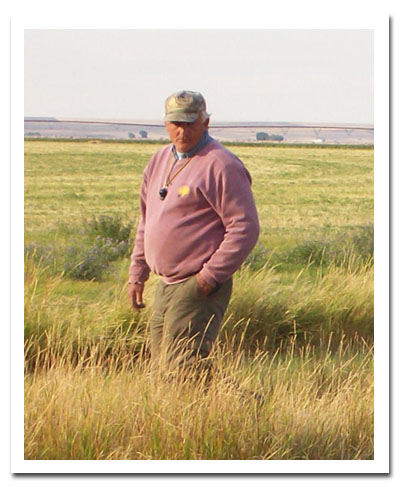 At 13 years of age I received a gift from a family friend: two beautiful Pointer pups. At that time, the wild pheasants were very plentiful in Pennsylvania. It was great to find birds easily and watch these two pups transform into great hunting dogs. By my sixteenth birthday, I had ten Pointers. Every spare second was devoted to the bird dogs.

When I reached 19, I enlisted in the U.S.M.C. and for the next four years I could hardly wait to get back to my bird dogs. After a tour in Viet Nam and two years in Quantico, VA, I was back home in the early 70s. I spent a couple seasons with trainer Clair Gross of Wellsville, PA. Working for Clair was great as he gave me the opportunity to work different breeds and gain a lot of experience under his watchful eye. Clair trained both field trial and gun dogs. I enjoyed working with both, but being competitive, I loved the trials. We ran all over the east coast at many weekend trials and I really enjoyed the winning. Clair had a good string of dogs and did his share of winning.

I went on my own in the mid 70's and had some early success, then after a few years of 'flying solo' I went to work for Dr. Tom Flanagan at his Grouse Ridge Kennels in Norwich, N.Y. Dr. Tom also had a place in Waynesboro, GA. Here, I met Hall of Famer and trainer, the late Fred Bevan. I worked with Mr. Bevan for two winters. Mr. Bevan would come over to Dr. Tom's three or four days a week to help me out. I learned a lot from him. I placed with dogs for Grouse Ridge from Canada to Georgia and will always appreciate the exposure I received from working for Dr. Tom and Peter Flanagan. Dr.Tom and Peter loved their setters and they have had some of the best.

Having spent two winters working in Georgia with Grouse Ridge, I realized that Georgia was great bird dog country... so my wife and I moved to Georgia and worked for Mr. Butch Houston of Nashville, Georgia. Here we spent a few years working for Butch and ran in many National Shooting Dog and AA trials. Butch had many great dogs and we enjoyed training together.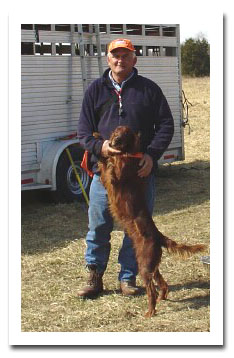 I had an opportunity to go to work for Gene Brown of Tallahassee, Florida. Mr. Brown at the time, leased 9,000 acres of the famed Dixie Plantation. During this time I also worked for Ms. Geraldine Livingston as she was the owner of the 9,000 acres that was the southern portion of the Dixie. This was a wonderful time in my life as few people have had the privilege to work 18,000 acres of wild birds. The Dixie is the home of the Continental Championship and in my opinion, is one of the top two field trials in the U.S.

Within a few years, I moved on to become General Manager and Dog Trainer of Wiregrass Plantation in Albany, GA. I worked for Mr. and Mrs. Thomas Vail. I loved Wiregrass. We hunted 60 to 80 days a year on wild quail and also ran a few field trial dogs. Wiregrass was a very formal operation with mule drawn hunt wagons and 40 top dogs. It was, and still is, a first class operation.

After five years at Wiregrass, we wanted to be closer to family so we moved back to Pennsylvania and continued to train dogs in Pennsylvania. While living in PA I've had the pleasure to work with Mrs. Gwynne McDevitt. Mrs. McDevitt has outstanding grounds not far from Philadelphia. She has a kennel of great Gordon and English Setters. Gwynne and I continue to enjoy field trial success as I train dogs for her.

I've never kept official track of my field trial placements over this time, but I'm sure the number is in the hundreds - and probably pushing a thousand - between the American Field and the AKC. We have had several great dogs with more than 50 placements per dog! I have been very lucky to have won trials from Canada to Florida and from the Atlantic to the Pacific... horseback handling puppies, derbies, gun dogs, shooting dogs and all-age, as well as competing in walking stakes.

And here I am today, in my "middle" years, ever fortunate to be following my passion for training and trialing bird dogs of all ages and all breeds. I've looked at my fair share of wonderful bird dogs over these decades, and I still get a thrill from watching a dog strike a stylish point -- whether by a young puppy, or a seasoned veteran.

If you're looking for someone to train your dog that has "been there, done that," I might be right for you and your dog. Please feel free to e-mail or call if you have any questions about our training program.

My son Jimmy and I continue to train full time in Pennsylvania, with a summer program in Montana and winter program in Georgia.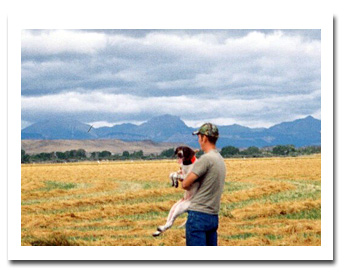 Jimmy Heckert, sharing a view of the Rockies with a doggy pal
WHAT TO EXPECT WHEN YOUR DOG IS IN OUR CARE
We take care of your dog just as if it is our own: quality dog food, large sanitary chain link kennels, and plenty of fresh water daily. Your dog will not perform well if he or she is not cared for well. Your dog needs to be happy to get the most value out of your training dollar. Our positive training starts with Purina Pro Plan Performance, at 30% protein and 20% fat, it's made with real chicken as the #1 ingredient, wholesome rice (an easily digestible source of carbohydrates), natural sources of glucosamine for joint health and mobility, and this food supports increased endurance and lean muscle mass plus optimizes oxygen metabolism (VO2 MAX) so dogs burn fat more efficiently!

We carefully look over each dog in our kennel every day. We have a monthly heartworm program in place at no cost to you. Our good friend Dr. Charles Fager, D.V.M. is a frequent visitor to our kennel to train with us. His years of experience are only a phone call away if we have any questions about your dog's well being.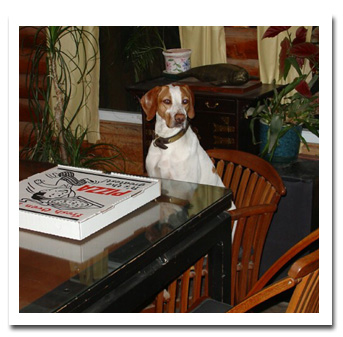 A young Pointer has learned well during her training session in Montana...
back at the cabin she waits politely for her "host" to be seated *before* digging in!