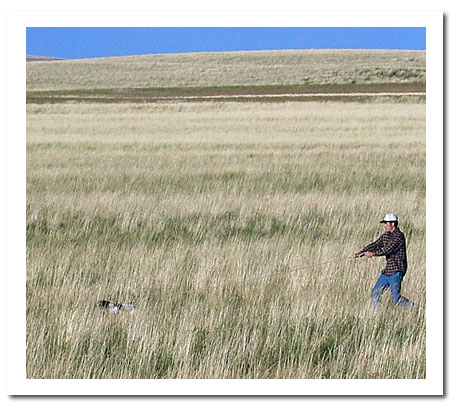 TRAINING
Whether you're a bird hunter, pointing breed field trial competitor, or a person who owns a bird dog as a companion and wants to have a dog that can do what it was bred to do - we offer training tailored to your dog's individual needs.
Take a few minutes and look at some of the great dogs we had the pleasure to train and handle in recent years - from Brittanies to Weimaraners, and many pointing breeds inbetween - there's nothing like the sight of a bird dog standing rock-solid and intense on wild birds...





With the Rockies as a backdrop and the beauty of the surrounding landscape in "big sky country"...
it truly takes your breath away!!!

TRIALS
At Jim Heckert Kennels we travel thousands of miles every year in order to run our client dogs in quality pointing breed field trials -- from the east to the west, and from north to south

We actively compete in AKC and American Field trials across the country - supporting local pointing breed clubs, as well as National and Championship events.

Our congratulations go out to our clients' dogs that have won and/or placed at recent trials. See some of their photos... CLICK HERE
BREEDING
We're proud to have trained and handled the 2006 AKC National Gun Dog Champion, "Covey Up Johnny," a male Liver/White English Pointer owned by Ray Knight of Albany, Ga. "John" outperformed 55 dogs down in Sutherlin, VA to win that prestigeous event. He also went on to take Top Pointer at the 2007 AKC Pointing Breed Gun Dog Championship in Nebraska!
We know that winning at trials is only one aspect of proving the merit of a breeding program, the other side of that coin is passing those excellent winning ways on to future generations. Several of John's puppies have finished their AKC Field Champion title -- and are winning in major AKC gun dog stakes!

When you're looking for an excellent hunting dog, or a future contender for top field trial awards in American Field or AKC events, check out some of our past litters...

WE HAVE YOUNG FIELD TRIAL and HUNTING DOG PROSPECTS AVAILABLE NOW.